About a month ago I got into a nasty accident that has resulted in me being on a liquid diet for about 2 months and unable to work for the time being. This means 2 things: I have gotten pretty creative with smoothies and soups, and I watch more TV than I would like to admit.



On the surface, these two things seem completely separate, but after 2 weeks of eating through a straw, even Homer Simpson chowing down on some fried chicken can make your mouth water. Around this same time, you begin having what I call SNACK ATTACK!! This is the complete yearning for something crunchy, sweet or savory, and all too satisfying. By week 4, an ad for a "complete pot roast" microwave dinner that doesn't look fit to be sold at Walmart can begin to look like a gourmet meal.


Knowing this, channel flipping can prove to be an excruciating task but Vicodine gives me a short attention span so I don't have much of a choice. One thing is for sure, the food network is off limits. Personally I have never been big on the food network or travel channel which is surprising since I love to cook almost as much as I like to travel. I think the reason is because I don't like cooking like Rachel Ray and I don't like travelling like Samantha Brown. But channel flipping through different times of day has led me to discover many new shows I wasn't aware of. One which I have become a big fan of is No Reservations.

No Reservations is a travel and food show by Anthony Bourdain, a long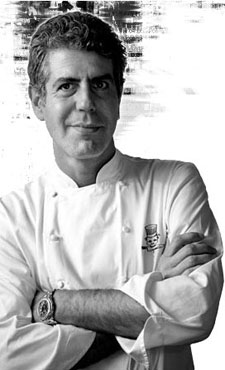 time cook, writer, and traveller from New York. What sets this show apart right from the start is its parental warning at the start (at least for some shows). If this doesn't set the tone of "This isn't your average travel show" (or show how conservative US TV censorship is), I don't know what does. What I enjoy the most about this show is that it focuses on the local life and the unbeaten path. Bourdain goes to many countries that most people wouldn't, such as Laos, and when he does go to a big cities, he ventures into the backstreet local markets and small towns just outside the big cities. He talks with a variety of people, from local film makers and musicians, to researchers, to cultural icons, to local icons. While the show is a travel shows and he talks about things to do and places to go, the focus is on the food.

While I have been sitting at home and healing, this show has been a blessing and a curse. While I enjoy watching the show with his witty and insightful documentation of far off places I wish to visit someday, my mouth can't help but water as he wanders down the spice market in Egypt, downs fresh oysters in homemade hot sauce on the beach in Jamaica, or chows down on a spicy local taco after a night of drinking in South Beach, Florida. Bourdain gets hope from the locals in finding the best places to eat, but what I enjoy the most is when he is invited to eat a meal with a local family. He is able to see who in the family cooks, what they eat, and their local dining traditions.

Bourdain shows an appreciation for the cultures and people that are different than his own and is genuine in the way he interacts with each human being he meets (or atleast acts like it on TV). His ability to show the inner beauty, if not, simply, the beauty that most pass over, in a country along with his knowledge of food and willingness to try new and differeent things makes this show great. While I am not one to sit down and follow a show, I always check to see if No Reservation is on when I sit down to watch TV.