Most people who visit San Diego comment on two things, the Gaslamp Quarter and Extraordinary Desserts. While both are great things to see while in San Diego, what gives SD its character are all the neighborhoods near downtown such as Hillcrest, Golden Hill, East Village, Barrio Logan, North, and South Park. In these neighborhoods are the clothing boutiques, bars, and restaurants that really stand out in this city.

With the E. coli spinach scare and beef recalls, we really do take for granted the safety and origin of our food. Linkery in North Park, SD goes above and beyond providing quality and credibility unsurpassed by most restaurants with every one of their dishes.






When you walk into the small restaurant on the corner of Upas and 30th, you enter a dimly lit room that feels more intimate than cramped. The menu is one large page. On one side is the simple menu with many options (although being Carnivore, my opinion might be a little skewed away from the realities of Vegans and Vegetarians). The other side of the menu is a complete list of the farms where each ingredient came from, including locations and names of the owners of the farm.

Although they are known for their sausages (hence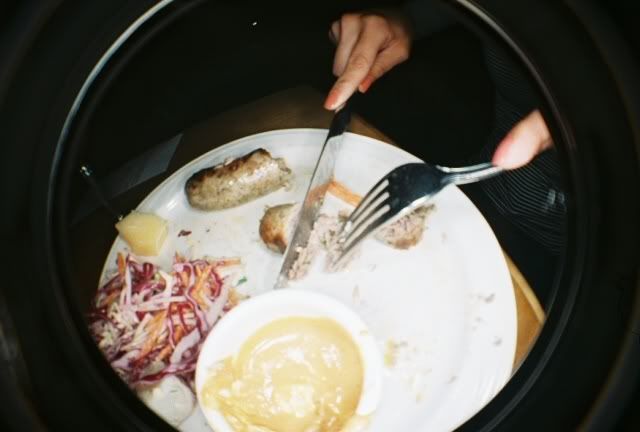 the
name) which are made in house, the rest of their menu is fresh from the local farms, with great produce and choice cuts of meat. While I was there, I had a succulent piece of pork with purple mashed potatoes that were presented very appropriately for the setting and tasted better than it looked. My friends sausages were juicy an flavorful and the extraordinary mustard that came with them is made fresh daily and changes as they see fit. Along with their fine selection of food is an international wine list and a very diverse and well-selected beer selection.

Whether you are an environmentalist, a vegan, a raging carnivore, an informed consumer, or an empty stomach, I would definitely recommend venturing off the beaten path next time you are in SD and visiting the Linkery, just be sure to read the information for newbies before visiting.

After you are done with dinner, wander north to 30th st and walk around the shops and studios and enjoy yourself. If you feel like some dessert, you might want to think about skipping on the extraordinary desserts and going for some Heaven Sent ones, but that's for another time.